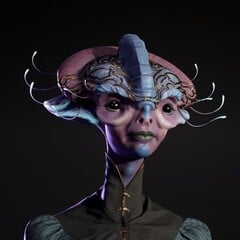 Oliver Schümann
3D Character Artist / Digital Sculptor
Berlin, Germany
Summary
My name is Oliver Schümann, I'm a 3D Character Artist and Digital Sculptor.
I've started my career as generalist and specialized my skills to made characters and creatuers for video games. For almost 10 years I worked on Browser, PC, Console and even VR titles.
Nowadays I'm a freelance digital sculptor for miniatures and collectibles.
If you want to work with me just send me an email or dm.
Skills
Character Modeling
Digital Sculpting
PBR Texturing
Hard Surface Modeling
Low-poly Modeling
High-poly Modeling
Photogrammetry
Creature Design
collectible
3D Modeling
Game Development
VR
Look Development
Software proficiency
Experience
Freelance Digital Sculptor at Freelance

Berlin

Freelance character and creature artist

3D Generalist at bgis Kreative Ingenieure GmbH

Berlin, Germany

February 2021 - July 2022

3d visualisation based on photogrammetry and laser scan data.

3D Character Artist at Memento 3D Interactive GmbH

Berlin, Germany

December 2018 - January 2021

Creating realistic 3d characters based on scan datas for a VR game.

Creating prop and environment assets for a VR escape room game.

Junior 3D Artist at Rockfish Games GmbH

Hamburg, Germany

May 2015 - September 2015

3D prop and set dressing asset creation for the Everspace Kickstarter campaign.

3D Character Artist at Farbflut Entertainment GmbH

Hamburg, Germany

November 2012 - June 2014

Creating high and lowpoly characters for a 2.5 D Browsergame.

I was also responsible for rigging, animation and rendering.